The best time to start your online presence was yesterday! We understand the importance making a digital footprint is to your marketing. Our "Agent Exclusive" websites get you online fast without compromising professional appeal. Ready to add your brand, these templates are mobile-friendly, modern, and can feature IDX (MLS).
Check out our LIVE DEMO Agent Exclusive templates below.
We'll add your content, your colors, your logo, etc. 
Photographic backgrounds throughout. Spacious, full-screen sections. Show off the beauty of your target market!
A "warm" design, meant to give an inviting, friendly impression. For down-to-earth Realtors® who build their brand around their personal touch.
A website that's clean and modern. Includes IDX Search bar in the website header. Perfect for showing your featured listings. Adapts easily to any color scheme.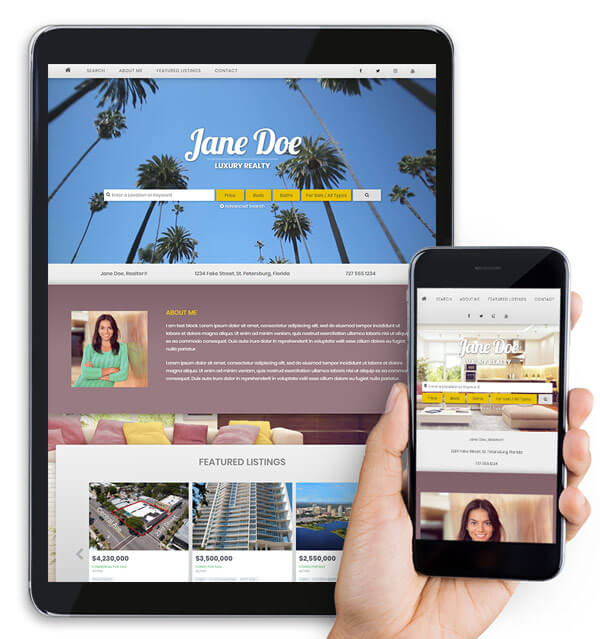 This design allows for a Slideshow in the background of the homepage. Focuses on the lifestyle imagery of your target area.
A spacious, full-width website that's clean and modern. Video, Photo Galleries and more can be added easily. Adapts to any color scheme. This example includes basic Stellar MLS Search page.
A spacious, full-width website that's clean and modern. This template has a focus on Commercial Real Estate. Highlight your commercial listings in both the IDX slider and directly on the page with photos and short descriptions. Video, Photo Galleries and more can be added easily. Adapts to any color scheme.
"Agent Exclusive" with Premium IDX
$49 Website Setup
(Save $50 off setup for a limited time)
"Agent Exclusive" with Basic MLS Search page
Hosting includes: Daily backups. Security and anti-spam measures. Customer access to IDX and Web Admin portals (when applicable). Email services are not included, but we'll help guide you if you don't already have your own.
See how one template can change with different agent preferences:
Choose Features for Your Website
Galleries
Interactive Sliders
Testimonial Widgets
Custom Forms & Sign Up
Calculators
How about hosting? We've got you covered!
Secure Hosting with
Full IDX
only $65/mo.
Secure Hosting with
Basic MLS Search page
only $20/mo.
Free SSL. Routine backups. Security and anti-spam measures included. Customer access to IDX and Web Admin portals (when applicable). Email services are not included, but we'll help guide you if you don't already have your own.
Below are just a few of the features that the IDX can provide. More than just MLS results, the IDX gives both the consumer and the agent a user-friendly set of tools to make the process as friendly and information-rich as possible. Agents can manage, contact, and route leads. Agents can even create custom subscribed searches for their leads that email results in set intervals.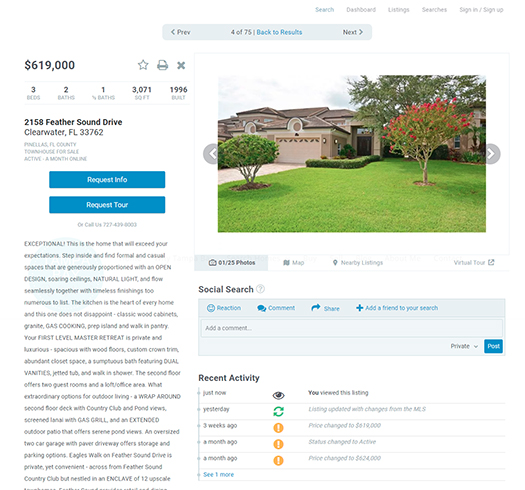 Friends and Family Search
Websites with IDX include listing landing pages. You can create a sleek landing page to use in your social marketing with this simple feature. This is a great way to capture leads.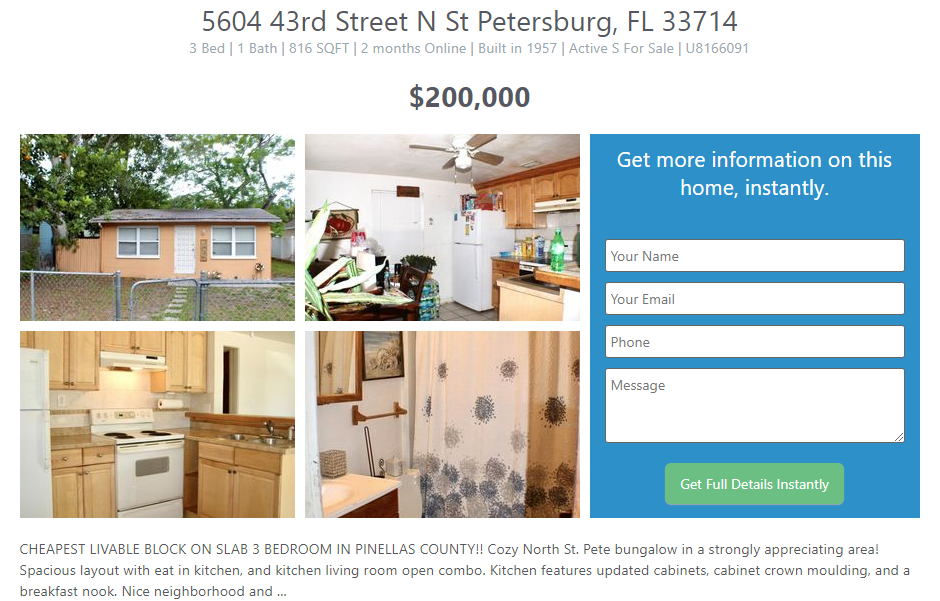 Watch this video to learn about Friends and Family IDX Search
About Agent Exclusive PROSites
A PROSITE will help you capture more leads by targeting mobile users. After searching gorgeously detailed property information, complete with driving directions, property photo galleries, neighborhood and school statistics, clients will be able to call or email you with one tap of their smartphone! Let PROTECH help you build your online presence while you focus on closing transactions.
Don't let your prospective clients "bounce" away! If you've ever gone to a website on your smartphone and been redirected to a stripped down "mobile version" or had the misfortune of trying to navigate a website from your phone and given up after pinching and scrolling from side to side endlessly, you know that's an easy way to lose a new contact. PROTECH has solved these problems with up-to-date technology. Responsive websites scale to fit any device and follow the ranking rules set by Google. Your website content will resize itself whether the user is in vertical or horizontal viewing mode, on a smartphone, tablet, laptop, or desktop monitor. We make sure your clients can search your properties while on the road! We are here to help you help your customer have the best experience possible. Our PROSITES are branded for your office, with modern design, IDX property searches, integrated blog, and monthly market statistics.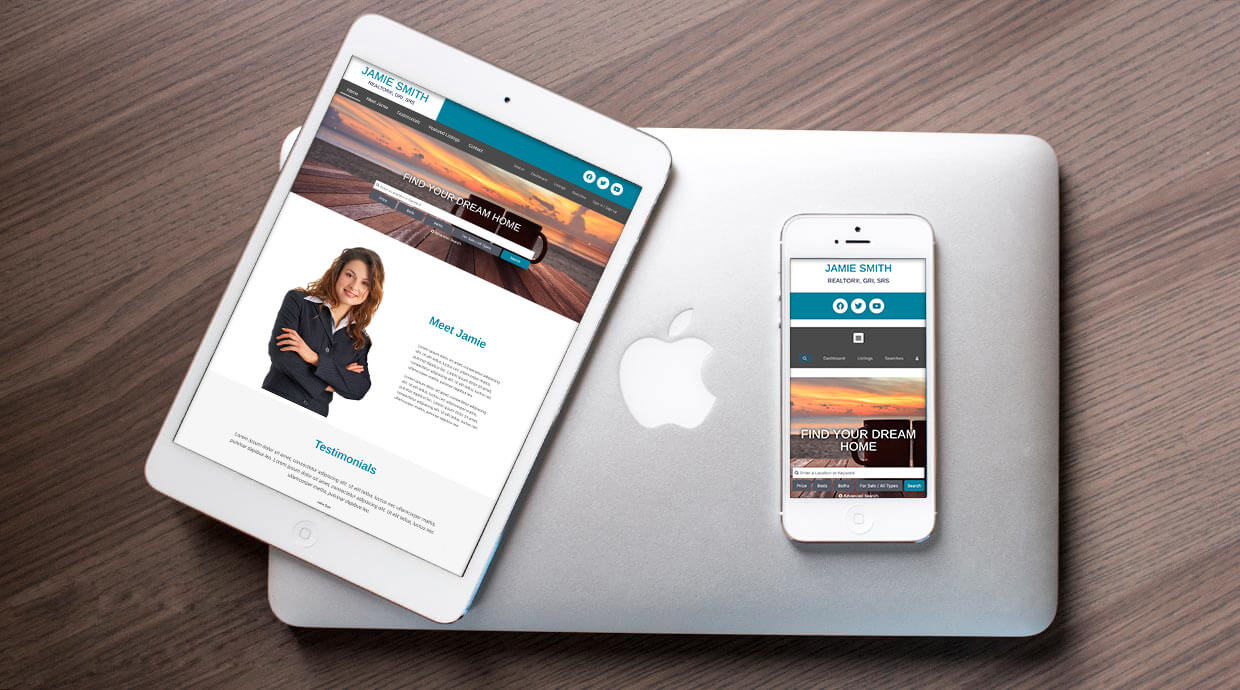 Agent Exclusive Websites with Premium IDX - Features Include:
IDX Included (For Realtor Members – $720 value)

IDX Map Search
IDX Advanced Search
Lead Management
User Registration
Save Favorites and IDX Searches

Color scheme to match your branding
Mortgage Calculator integrated into every listing
Social Media Links
Contact Form
Hosting Included
XML Site map and other SEO (Search Engine Optimization) tools and features
Google Analytics Installation
Website Security – Each PROSite is installed with a Security Plugin that protects your site from cyberattacks and blocks any unwanted bots.
Site Maintenance including plugin and WordPress updating.
Daily Site Backups
1 hour training session upon completion of your website (within the first 60 days)
IDX Searches for Agent and Office
IDX Quick Search Widget
IDX Featured Listings
5 IDX searches Included – Featured Listings, Single Family Homes, Condos and Townhouses, Tampa Bay Area and Waterfront. See Add-ons section below for cost of additional IDX pre-defined Search pages.

8 hours of Content Import – Content must be finalized and prepared to be imported into your website. (You can add unlimited pages and content to your site after the website launch). If you have content that will exceed the 8 hour setup time, we can provide a quote to migrate additional content (at a rate of $50/hr)
5 Additional IDX Search pages – Filter results by County, City, Subdivision, Condo Building or by Zip Code for $99
Custom Website Forms starting at $99 (custom quote required for large multi page forms)
Additional Resource Pages for $199:

Buyer's Guide
Seller's Guide
Marketplace Statistics Overview

Integrated Blog for $149
Meet the Team page for $25
The Steps for Developing Your New PROSITE Website:
Contact us to arrange a Website Design Meeting. (Via online meeting)
We will send you our Website Planner Form. THIS IS AN IMPORTANT STEP. The form gives us the most important, and pertinent, information needed to start the process of developing your site. Any delay in filling out and sending us this form delays the timeframe in starting your website, so it is best send us this form as soon as possible. The completion of the form is required.
When we receive your Website Planner Form, we will contact you to collect the setup fee and start the monthly recurring fee. For the Agent Starter Website the turnaround time is 1 week. If any changes are needed (of colors, font size, etc.), we will makes those changes within the limit of 2 or 3 minor revisions.
After your site is launched, we provide a 1 hour training session in how to use your new PROSITE website.